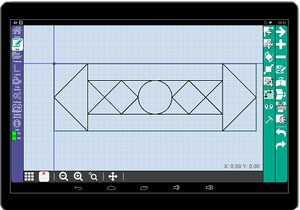 The Android Tablet The Android tablet gives you all the functionality of the quilting industries latest advances. The 10″ model is a larger, easier to see screen.
The Power of Android The Android Tablet gives you all the features of an android device. Access the Google Play store, Browse the internet, or even watch YouTube videos all from your quilting machine.
– Along with the ability to rotate, autosize, and repeat patterns, Butler also includes a crop feature, perfect for applique patterns. You can also see a birds-eye view of all your to-be-stitched patterns, select which patterns you would like to run, plus a brand new Text Generator which allows you to create patterns based on text directly from the tablet.
Wifi Enabled – Wireless internet lets you access popular sites, like YouTube, Pandora, E-mail and others, all right from your quilting machine. You'll also be able to install software updates at the push of a button. We are the only system on the market to be able to QUICKLY update over WiFi.
We are the only distributor with custom brackets to fit your Prodigy perfectly.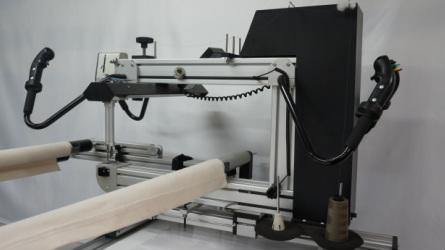 Thank you for your inquiry of the Prodigy Longarm Quilter. You will be very excited when you get to see and feel the Prodigyin action. It is without doubt the best Longarm Quilter available today. It is easy to use, easily upgradeable with any future accessories we may invent and fully programmable with update software we send you over the internet. It is built to industrial machine standards using motor grade bearings, ¾" drive shafts, anodized aluminum frame, and an oil less needle bar and presser bar. The stitch regulation is practically perfect and is built by the inventor of the Stitch Regulator.

---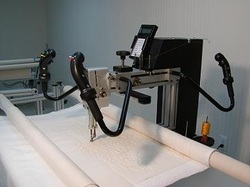 This is a P1709 Stitch Regulated Prodigy Quilter on an Advanced Table. Head Size: The sewing head is 17" x 9". Sewing area is 15".
Absolutely Perfect Stitch Control: No matter how fast or slow, within the speed range of the sewing machine, the sewing head is moved the stitch will remain the same. There are no long or short stitches starting out or ending.
Needle Position: Set needle position to stop up or down.

---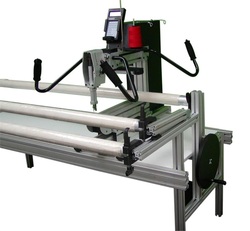 Needle Position: Set needle position to stop up or down.

Movable LCD Display: Hand-held display shows machine setting and enables you to change the settings. This is movable so you can view or change setting from the front of the back of the machine.

Handle Bars: Ergonomically shaped handle bars with rubber isolated grips minimize vibration.

---